Sausage & Peppers Pasta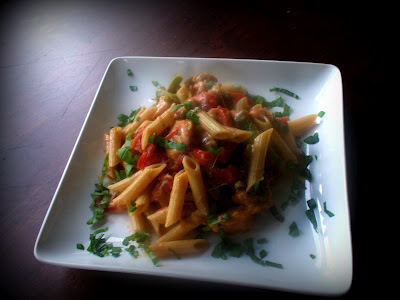 This is a very simple pasta dish that is perfect for a quick meal. My mom used to make this all the time and it was always one of my favorites. Of course I stole the recipe from her whenever I moved out and decided to make it a little more spicy with the addition of the Diced Tomatoes and Chilies and the Pepper Jack. If you want a more mild version instead of using the pepper jack, use 1 1/2 cups of a mozzarella and parmesan blend and use regular diced tomatoes.
Bon Appétit!
Ingredients
3 Cups wheat Rigatoni
Italian Sausage, Sliced
1 green, yellow & red pepper, sliced
1 clove of garlic, diced
1 (14.5 oz) can Diced Tomatoes and Chilies
3/4 cup Mozzarella, shredded
3/4 cup Pepper Jack, shredded
Parmesan cheese
Directions
Cook Pasta as per box directions.
While pasta is cooking, cook sausage in a large saute pan over medium heat for 10 min. Add sliced peppers and and garlic and cook for an addition 7 min. Stir in tomatoes and cook for an additional 2 min. Drain pasta, add it in the saucepan with other ingredients and top with mozzarella and pepper jack , cover to melt the cheese. Plate and garnish with Parmesan.