Lee's Buffalo Chicken Mac n' Cheese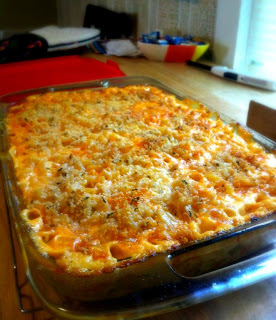 Lee and I definitely have an addiction to Buffalo Chicken. So, naturally, whenever she made this dish, we both fell in love with it.
It's probably my favorite version, and I'm willing to guess her's as well, of macaroni and cheese. When she made her last batch, I decided with the left overs I would turn it into a bite size, finger food in the form of deep fried mac n' cheese. Either version would be great for the Super Bowl this weekend. Two recipes for the price of one!
Bon Appétit!
Ingredients
7 tablespoons unsalted butter, plus more for the dish
Kosher salt
1 pound elbow macaroni
1 small onion, finely chopped
1 stalks celery, finely chopped
2 Chicken Breasts, cooked & shredded
2 cloves garlic, minced
3/4 cup hot sauce (preferably Frank's)
2 tablespoons all-purpose flour
2 teaspoons dry mustard
2 1/2 cups half-and-half
1 pound yellow sharp cheddar cheese, shredded (about 3 1/2 cups)
8 ounces pepper jack cheese, shredded (about 2 cups)
2/3 cup sour cream
1 cup panko (Japanese breadcrumbs)
1/2 cup crumbled blue cheese, optional
2 tablespoons fresh chopped parsley, optional
Directions
Preheat the oven to 350 degrees F and butter a 9-by-13-inch baking dish. Bring a large pot of salted water to a boil; add the pasta and cook until al dente, about 7 minutes. Drain.
Meanwhile, melt 3 tablespoons butter in a large skillet over medium heat. Add the onion and celery and cook until soft, about 5 minutes. Stir in the chicken and garlic and cook 2 minutes, then add 1/2 cup hot sauce and simmer until slightly thickened, about 1 more minute.
Melt 2 tablespoons butter in a saucepan over medium heat. Stir in the flour and mustard with a wooden spoon until smooth. Whisk in the half-and-half, then add the remaining 1/4 cup hot sauce and stir until thick, about 2 minutes. Whisk in the cheddar and pepper jack cheeses, then whisk in the sour cream until smooth.
Spread half of the macaroni in the prepared baking dish, then top with the chicken mixture and the remaining macaroni. Pour the cheese sauce evenly on top.
Put the remaining 2 tablespoons butter in a medium microwave-safe bowl and microwave until melted. Stir in the panko, blue cheese and parsley. Sprinkle over the macaroni and bake until bubbly, 30 to 40 minutes. Let rest 10 minutes before serving.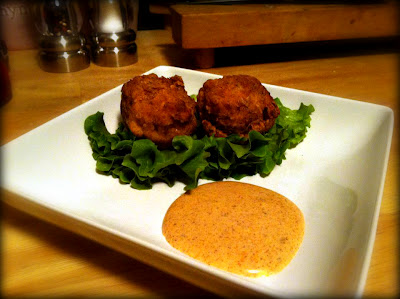 Ingredients
Buffalo Chicken Mac n' Cheese, completely chilled
2 eggs
3 Cups All-Purpose Flour
2 Tbsp Garlic Powder
2 Tbsp Onion Powder
2 Tsp Paprika
2 Tsp Cayenne Pepper
Canola oil for frying
Cajun Ranch Dipping Sauce; recipe follows
Directions
After you have made your Buffalo Chicken Mac n' Cheese in the last recipe, in order to deep fry it, it has to be cooled completely in a refrigerator. Once chilled, you want to proportion the mac n' cheese into meatball sized balls (or however big you'd like).
Combine all the dry ingredients (Flour, garlic powder, onion powder, paprika, cayenne pepper & kosher salt) mix with a fork until well incorporated. Separate the flour mixture in half and distribute to two separate bowls. Place the eggs into a 3rd bowl and wisk.
First, coat the mac n' cheese balls in the flour mixture, then coat in egg (letting the excess egg drip off) and then coat in the flour mixture once more. Repeat until all have been coated.
In a large stock pot, heat the canola oil to
350-365°
F. Add the mac n' cheese, in batches (you don't want to try to fry all of them at once!) and fry until golden brown. Remove from oil with a slotted spoon and transfer to a parchment paper lined baking sheet. Plate and serve with the cajun ranch dipping sauce!
Cajun Ranch Dipping Sauce
Mix 1 cup of ranch dressing with 4 tablespoon of cajun seasoning. Refrigerate until ready to serve alongside the Deep Fried Buffalo Chicken Mac n' Cheese Balls.
Knife Skills
The first legit cooking job I had was at the Nittany Lion Inn and you know what the first thing I had to do was?? Dice about 50 pounds of onions...I was a green horn and didn't know how to do anything and after the first one I was quickly taught how to do it properly. I can't tell you how many times I've passed on my onion dicing technique and it may seem kind of juvenile. But, I have found that it's those little basic kitchen skills that if we hone (dicing vegetables, cooking the perfect egg, etc) it makes life 10x easier and usually makes the quality of what you're cooking better because you have consistency.
The first thing in cutting ANYTHING is having a good quality, sharp knife. If you don't have one, please, do yourself a favor and go pick one up. You don't need a $100 knife, but you can find a decent knife for around $20-$30.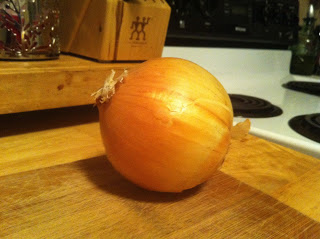 Whole Onion
Next thing you want to do is place your onion on a cutting board and cut it in half vertically making sure that you're keeping the root intact. You want to keep the root because that will help you keep the onions form when you make the necessary cuts. Remove the skin and discard.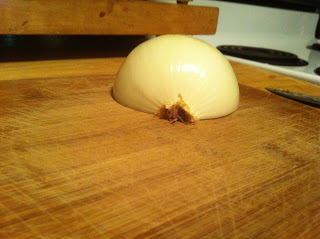 Halved w/ skin removed
Next you are going to want to make horizontal slits, following the natural ribs in the onion. Keep the width consistent so that when you finally dice the onion you have consistent pieces. If they aren't you are going to have pieces that cook faster or slower. Cutting your veggies the same size, leads to even cooking.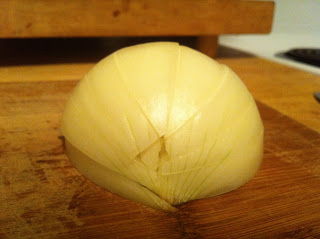 Horizontal slits
Finally, grip the onion like a tennis ball to keep it all together and cut down through the onion to dice it. Again, making sure to use nice and consistent strokes. Hopefully this helps, if not
has a good video showing a little bit different technique, but the same concept.