Cast Iron Care & Maintenance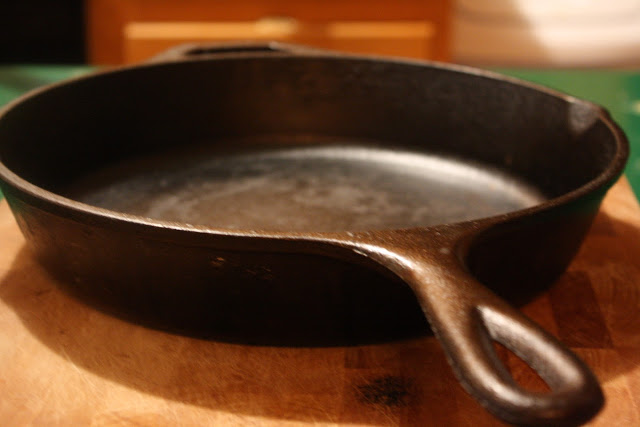 I was thinking the other day that I don't post enough how-to posts, actually none. Over the holiday break I decided that I needed to re-season my cast iron pan. I only have one and I love it. Cast irons, in my opinion, are the best cooking pans out there. The only down fall with them is that they are heavy, they take a little longer to heat up and you have to take care of them.
The thing that separates a cast iron pan from the rest of the pack is its ability to retain heat. Once you get it heated up (Usually takes about 5 minutes) it will hardly cool down when adding food to the pan. A standard aluminum saute pan, when adding a half-pound rib eye steak, can drop by 300°F. Where as a cast iron pan will stay around it's original temperature, which makes for a thicker, crisper and more evenly browned crust. This is also true when frying in oil, which I use my cast iron for all the time. Not only does frying help keep the pan nice and seasoned. But, when you add your chicken to the fry oil in a cast iron, the heat retention from the it is going to keep the oil to temperature.
You can also braise and bake in them (Check out my
). Breads, pies and pizza comes out beautiful when baked in a cast iron.
Another advantage to having cast irons is that it is probably the only thing in the kitchen that gets better with age. They are extremely durable, even a rusted 80 year old cast iron that you bought from a garage sale can be brought back to life. The very best of pans have been passed down over multiple generations, their well-used surfaces worn as smooth and nonstick as teflon-coated pan, without the toxic chemicals.
But, in order to get the most out of your cast iron, it HAS to be taken care of properly. It is very much like taking care of a puppy, they both require some work, a little patience and most of all...loyalty. If you take proper care of your cast iron it will pay back your investment with golden-brown fried chicken, sizzling bacon, corn bread, apple pies, perfectly seared steak and bubbly pizzas....ahhhh satisfaction indeed!
How do you season a cast iron pan?
Scrub your pan by pouring a half cup of kosher salt into it and rubbing it with a papper towel. This will scour out any dust and impurities that may have collected in it. Wash it thoroughly with hot, soapy water and dry it carefully.
Oil your pan by rubbing down every surface with a paper towel soaked in a highly unsaturated fat like corn, vegetable, or canola oil. Unsaturated fats are more reactive than saturated fats (like shortening, lard, or other animal-based fats), and thus polymerize better. It's an old myth that bacon fat or lard makes the best seasoning agent, probably from the fact that those fats were very cheap back in the day.
Heat your pan by placing it in a 450°F oven for 30 minutes (it will smoke), until it's surface is distinctly blacker than when you started. An oven will heat the pan more evenly than the stovetop will, leading to a better initial layer of seasoning.
Repeat the oiling and heating steps three to four times until your pan is nearly pitch black. Pull it out of the oven, place it on the stovetop to cool. Your pan is now seasoned and ready to go.
Until you've got a good layer of seasoning built up, avoid excessive use of soap or cooking acidic sauces. Both can make the seasoning process take longer.
How do you properly maintain your cast iron?
There seems to be a irrational fear of cast irons because people don't want to take care of them. But, truthfully, once you build up a good layer of seasoning, they are quite tough. You can't scratch it out with metal utensils. You can't destroy it by using soap (To days dish detergents are very gentle on everything except grease). To maintain and build on it, all it takes is to follow these few points:
Use it often.A good layer of polymers should build up slowly in thin, thin layers. This means using your pan as much as possible—particularly for oil-based tasks such as frying or searing. Avoid cooking liquid-based dishes in the pan until it has acquired a reasonably good nonstick surface
Clean it immediately after use.Removing food debris is much easier from a hot pan than from one that has been allowed to cool. If you clean your cast iron skillet while it is still hot, chances are all you'll need is a tiny bit of soap, and a soft sponge. I'm particularly wary of this at dinner parties when a well-intentioned guest may decide to chip in after dinner and get a little too generous with the elbow grease, potentially scrubbing out some of my seasoning
In most cases, avoid tough abrasives.These include metal scrubby scouring pads, and cleaners like Comet or Bar Keepers Friend. The scrubby side of a soft sponge should be plenty for most tasks
Dry thoroughly, reheat it, and oil it before storing.After rinsing out my pan, I replace it on a burner and heat it until it just starts to smoke before rubbing the entire inside surface with a paper towel lightly dipped in oil. Take it off the heat, and let it cool to room temperature. The oil will form a protective barrier preventing it from coming into contact with moisture or air until its next use
They can't get no Satisfaction cause they don't own a cast iron :)